By Amelia HILL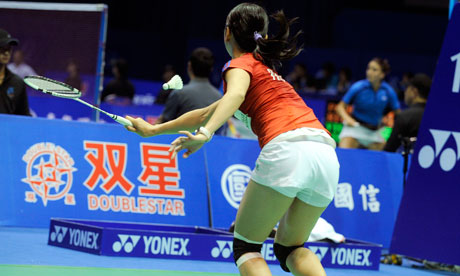 An attempt by badminton's governing body to force professional female players to wear skirts or dresses has been condemned as "a regressive and damaging attempt to sex up the game" by Hugh Robertson, the minister for sport.
The Badminton World Federation says the dress code is necessary to make women athletes appear more feminine, thereby reviving flagging interest in the sport from fans and corporate sponsors.
Athletes' representatives have said they will seek to have the decision scrapped at a meeting of the world's badminton-playing nations in Qingdao, China, on Saturday.
If the motion is carried, Badminton England has said it will make a "strong protest". Robertson has said he will support any opponent of a dictate he has called "a bit silly [and] not terribly 21st-century".
"Within reasonable limits, the dress on courts should be a matter for the athletes," said Robertson. "To instruct people to wear unnecessarily short skirts is a regressive and damaging attempt to sex up the game. Sport should be judged on the merits of the contest and not on attempts to sex it up artificially."
The new dress code – formulated in consultation with Octagon, an international marketing firm – states that women can still wear shorts or long pants for cultural and religious reasons – as long as they are worn underneath a dress or skirt.
The code requires male players simply to dress in "proper attire".
Paisan Rangsikitpho, the US deputy president of the Badminton World Federation – which has only two female members on its 25-member board – denies the new ruling is "an attempt to use sex to promote the sport".
"We just want them to look feminine and have a nice presentation so women will be more popular," he said. "Interest is declining. Some women compete in oversize shorts and long pants and appear baggy, almost like men.
"Hardly anybody is watching [the sport]," he added. "TV ratings are down. We want to build them up to where they should be. They play quite well. We want them to look nicer on the court and have more marketing value for themselves. I'm surprised we got a lot of criticism."
But William Kings, spokesman for Badminton England, called the attempt "a bizarre move". "We're hoping it will turn out to be the result of something having been lost in translation," he said.
Kings said diagrams by the federation showing how Muslim women could wear skirts over long trousers were "very strange". "The drawings are embarrassingly laughable," he said. "We're rather hoping that at the meeting tomorrow, the federation will be given the opportunity to withdraw, review or have second thoughts about this statement that will lead to its abandonment. But if they don't drop it, we will be making a very strong protest."
He said, however, that UK badminton had a "dilemma" over the issue. He pointed to the support for the new dress code from Nora Perry, a former world doubles champion from England and member of the council of the world governing body.
Kings said of Perry that "the problem is that although she always used to play in a skirt, she was a very attractive woman player while lots of the opponents of this action come from those not quite as fortunate in the good-looks stakes".
"When you dictate apparel for reasons of sexuality, it should be offensive," said Donna Lopiano, a former chief executive of the Women's Sports Foundation.
If passed, the ruling would have little impact in the UK. The only female British player not to wear skirts or dresses on court is Imogen Bankier, 23, a Scottish doubles player. Bankier said she would contest the ruling. "It is sexist to demand the women wear skirts while the men can wear short shorts, baggy shorts, whatever they want," she said.